How to delete a Skype account?
---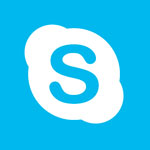 The description of the service:
Skype is an application that provides video chat and voice call services. Users may exchange such digital documents as images, text, video and any others, and may transmit both text and video messages. Skype allows the creation of video conference calls.
---
Deletion complexity:
Hard
If you don't want to use your Skype account, first remove all personal information from the personal data page. Then other people can't find you on Skype for personal data such as name, email address or phone number (although they will still be able to find your Skype name). Personal information stored on your personal details page you enter when you create or update a personal data page. It can be your name and surname, sex, date of birth, phone number, email address, mood message and all photographs uploaded by you for use as your avatar. To remove your Skype name from the Skype directory, please contact Skype customer service. Remove the username from the directory can take up to two weeks. After we remove your Skype name from the Skype directory, it will still appear in the contact lists of users who have added you as a contact. To remove you from the contact list can only the user. But even if he won't do it, you still will not be able to call you using Skype.
---
Direct links to delete:
---