How to delete a Google account?
---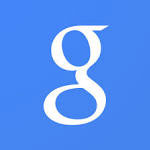 The description of the service:
Google is an American multinational technology company specializing in Internet-related services and products that include online advertising technologies, search, cloud computing, software, and hardware.
---
Deletion complexity:
Easy
"Remove your Google account in different ways will affect all related services such as Blogger, AdSense, Gmail, etc. to Check what data is stored in each of your services, you can be in your account. Please note! If you use Gmail, after you delete your account you lose access to it. In addition, you will not be able to re-register your old Gmail username. Log on to the home page of Google Accounts. If you have forgotten your password, you can reset it. Click on the Manage link data at the top of the page. Under 'Manage data' click Delete account and data. If no link, most likely, you are using a corporate account. Confirm the deletion of the account. To do this you must select the 'Yes, I want to remove account' and 'Yes, I agree to pay all bills on pending financial transactions'. If you do not use paid-for Google products (e.g. AdWords) or to have performed all associated payments, the latter can be selected without hesitation.
---
Direct links to delete:
---