How to delete a GoDaddy account?
---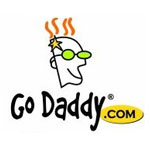 The description of the service:
GoDaddy is a publicly traded Internet domain registrar and web hosting company. It has been involved in several controversies related to security and privacy. In addition to domain registration and hosting, GoDaddy also sells e-business related software and services.
---
Deletion complexity:
Not possible
Follow the link, there will be a list of services with auto-renewal, and next link on the payment methods (Payment Methods), for example PayPal. Payment method cannot be removed until there are tied to it services.Step by step instructions:1. Note the checkboxes of services that you want to cancel and click "Cancel Item"2. On the next page (on the right) choose "Cancel Now" and then "Save Changes"3. Now go to Payment Methods4. Click "Deactivate Payment Method" and then "Save Changes"
---
Direct links to delete:
---