How to delete a Geocaching account?
---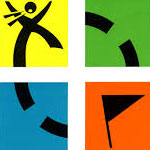 The description of the service:
Geocaching is an outdoor recreational activity, in which participants use a GPS receiver or mobile device and other navigational techniques to hide and seek containers, called "geocaches" or "caches", at specific locations marked by coordinates all over the world.
---
Deletion complexity:
Not possible
Each member ID on Geocaching.com is a historical record in their system and cannot be deleted. Therefore, your account can only be disabled, not be deleted.
---
Direct links to delete:
---