How to delete a Etsy account?
---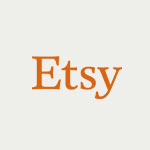 The description of the service:
Etsy is a peer-to-peer e-commerce website focused on handmade or vintage items and supplies, as well as unique factory-manufactured items. These items cover a wide range, including art, photography, clothing, jewelry, food, bath and beauty products, quilts, knick-knacks, and toys. Many sellers also sell craft supplies such as beads, wire and jewelry-making tools.
---
Deletion complexity:
Hard
You have to contact Etsy. As they've stated, "when a member closes an account, it becomes inaccessible and will remain deactivated, unless the member requests it reopened. Account information remains securely on file with them, and Etsy has a detailed Privacy Policy that explains how we use members' information. This policy includes a statement regarding data retention."
---
Direct links to delete:
---