How to delete a DHL (Paket.de) account?
---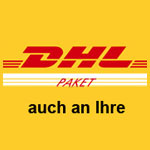 The description of the service:
DHL Express is a division of the German logistics company Deutsche Post DHL providing international express mail services. Deutsche Post DHL is the world's largest logistics company operating around the world, particularly in sea and air mail.
---
Deletion complexity:
Not possible
There's no information about account-deletion in their FAQ. The hotline also says that account-deletion isn't possible.
---
Direct links to delete:
---