How to delete a Bambuser account?
---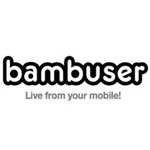 The description of the service:
Bambuser is a Swedish company, providing a platform for interactive live video broadcasting, for streaming live video from mobile phones and webcams to the internet. Bambuser, the service, is an interactive mobile video streaming platform that enables users to effortlessly stream and share live video using a smartphone or a computer equipped with a webcam. In addition to being accessible on the Bambuser website, broadcasts can be shared on various social media websites such as Facebook, Twitter, Tumblr and Blogger. The Bambuser broadcasting mobile phone application is currently available for iOS, Android, Nokia Maemo, Symbian, Bada and Windows Mobile platforms. Bambuser is free to use for private persons and representatives of charities. Commercial use is allowed but requires purchase of a premium subscription.
---
Deletion complexity:
Easy
Go to your Settings page and scroll down to find 'Deactivate' account. Click on 'Close Account' button, and confirm the account deletion.
---
Direct links to delete:
---